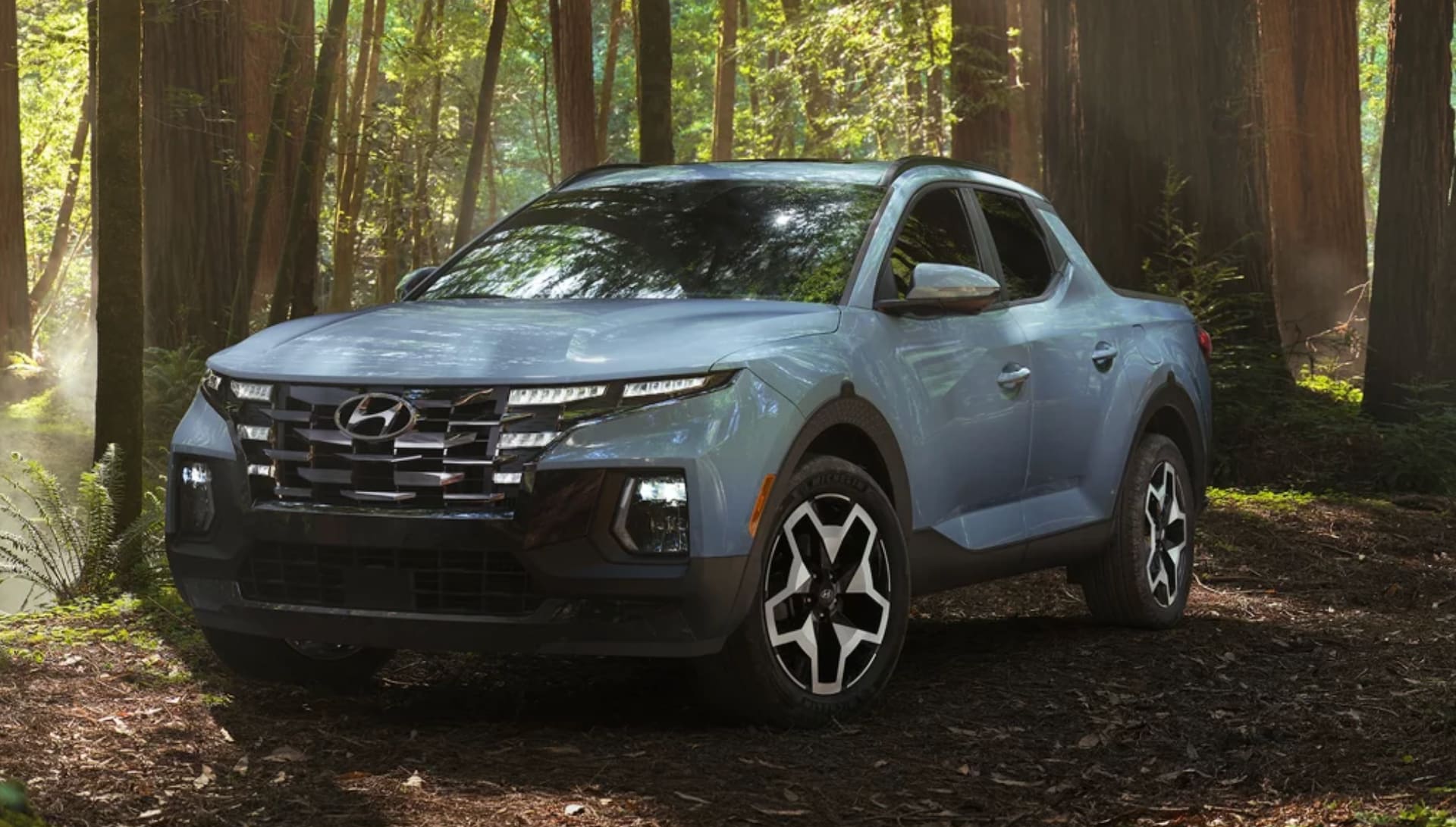 After all the greatness it's displayed in 2022, it's hard to guess what the Hyundai Santa Cruz has planned next. The 2022 Hyundai Santa Cruz has exciting features that are only going to get better with time. 
These features include an entirely new trim in the Santa Cruz Night. Hyundai has also introduced new features to the previous trims. Whichever model you choose, there's something new to get excited about.
Most of these changes are relatively minor quality-of-life improvements, continuing to fine-tune the Santa Cruz's precision engineering. It has both the power you'd hope for in a midsize truck, and also the amenities of a midsize SUV. Combined, this makes the Hyundai Santa Cruz a fun and exciting drive.
The Hyundai Santa Cruz Night: New for 2023
For future Santa Cruz models, one of the greatest new features is the Santa Cruz Night trim. The Night package adds 20-inch black rims, a darker grille, and black-painted door handles. Other changes are being made to the mirror caps and side steps. This gives the Santa Cruz more of a sleek, dark, edgy, and overall more aggressive look. Last year's Limited, SE, and SEL Premium trims are still available with some new features introduced.
2023 couldn't be a better time to get a Hyundai Santa Cruz. Many of the high-end improvements on previous years' models are making their way into lower-priced trims. For aspiring buyers, this means more features and improvements for less. 
New improvements include features like a 10.3-inch touchscreen and adaptive cruise control with GPS-based curve control. Two new safety features include a blind-spot monitor and a rear cross-traffic alert. These new features are now made standard in a Santa Cruz, making you safer than ever behind the wheel.
Under the Hood, Inside, and Out
The new 2023 Hyundai Santa Cruz is impressive, but it's built off an equally impressive foundation. It comes standard with a 2.5L four-cylinder engine that offers 191 horsepower and 181 lb.-ft. of torque. If you need even more power than that, there are options that can generate 281 horsepower and 311 lb.-ft.
When you step inside the cabin, you'll see first-hand the degree of comfort Hyundai puts into its interiors. It's the first in its class to offer a fully digital gauge cluster. 
The Hyundai Santa Cruz Truck: Great for Exploring
Equipped with all-wheel drive options, the Hyundai Santa Cruz truck is a great choice for off-road driving. It uses a similar platform and powertrain to the Hyundai Tucson, so you can expect similar performance from this model. For most trail driving experiences, the Santa Cruz will let you travel in style without sacrificing performance.
The Hyundai Santa Cruz has the best of both worlds. It has a truck bed with many of the reliable traits of a mid-sized SUV. With a max towing capacity of 5000 lbs, it can still manage impressive loads. The Santa Cruz will provide a smooth driving experience while still delivering on power. Only a Hyundai can deliver this impressive combination.
Mitchell Hyundai is Where The Action's At
With the changes in store for 2023 and beyond, it's hard not to be excited about the Hyundai Santa Cruz. 
The best way to see these exciting changes in action is to visit your friendly neighborhood Hyundai dealer. If you're looking for a Hyundai Santa Cruz for sale, come down to the lot at Mitchell Hyundai. 
We proudly serve Alabama and are happy to meet the needs of our customers. There's an exciting range of new and used Hyundai options, including the Santa Cruz. Our Hyundai experts would be happy to answer any questions or help you with a test drive.