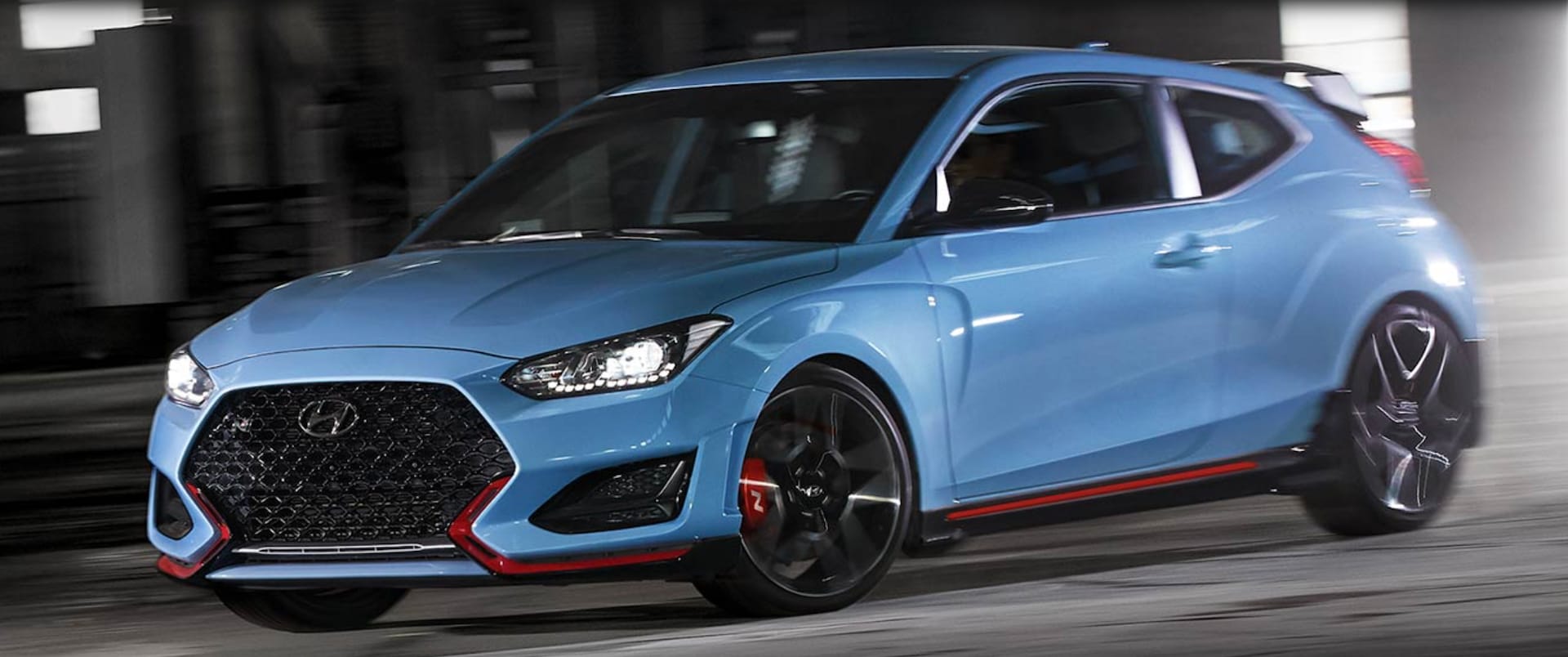 The Hyundai Veloster N has a lot of features we love, so we had a hard time narrowing it down. As a start, here are 3 things we love about the Hyundai Veloster N. We love the Veloster N's sleek exterior, its luxurious and comfortable interior, and its smooth handling on a drive.
This model has a sophisticated look, a luxury feel, and a powerful drive, making it a desirable vehicle. A sporty midsize hatchback that handles like the Veloster N has a lot to love. We think after you experience the Veloster N in action, you'll love it just as much as we do, too.
Up to Speed with the 2022 Hyundai Veloster N
Experience The Veloster N's Look 
The 2022 Hyundai Veloster N is a sleek, sexy, and sporty hatchback that handles like a dream. The Veloster N's charm and appeal start the moment you look at its distinctive silhouette. This instantly sets it apart from its competition. Inside, the Veloster has manually adjustable sport seats that will keep you comfortable even hugging the sharpest turns.
Powerful Performance
Under the hood, the Veloster N boasts a Theta 2.0L I-4 275hp inter-cooled turbo engine. This gives it 275 horsepower and 260 lb.-ft. of torque to take to the road charging full speed ahead. It comes standard with 6-speed manual transmission with overdrive, with the potential to upgrade to an 8-speed automatic. The Veloster N has 4-wheel anti-lock brakes, an integrated navigation system, and a full suite of airbags and safety features.
Smooth Handling
Once you get behind the wheel of the Veloster N, you can see all that power in action. With its excellent transmission and the "N Grin Shift" turbocharge feature, there's no lack of power behind the Veloster. Even without N Grin Shift, Hyundai estimates the automatic Veloster N can go from 0-60 mph in 5.6 seconds. The manual transmission's rated slightly slower, but that's still impressive. With its adjustable exhaust system newly standard, it will sound great no matter how quickly you get up to speed.
The 2021 Hyundai Veloster N: Just As Good as the '22
A lot of what we love about the 2022 model can be said for the 2021 Hyundai Veloster N. 
In 2021, Hyundai gave the option for Veloster models with eight-speed automatic transmission. This was a big upgrade to the six-speed manual available in the previous 2020 model. This makes shifting gears nearly seamless and improves the overall driving experience.
Like this year's model, the 2021 Veloster has impeccable speed and handling. It also includes a similarly sporty interior that doesn't trade luxury for functionality. And like the 2022 Veloster, you can drive in style without having to pay as much for competing models.
The 2021 Veloster was upgraded and improved from the 2020 model. Manufacturers added a lot of improvements, including sport seats and the option for automatic transmission. These improvements elevate the Veloster over its competition. It doesn't just look great, it drives great, too. Your friends may think you spent far more than you did on such an elegant and powerful vehicle.
Fall in Love with the Veloster N at Mitchell Hyundai
This is just the beginning when it comes to things to love about the Veloster N. It looks good, it drives great, and you'll look great driving it as well. You don't have to take our word for it, just see for yourself. 
Looking for a Hyundai Veloster N for sale? Look no further than
Mitchell Hyundai
. Mitchell Hyundai is your go-to source for new and used Hyundai models, including the Hyundai Veloster N. Take a test drive in the Veloster N. We think you'll fall in love with it, too.