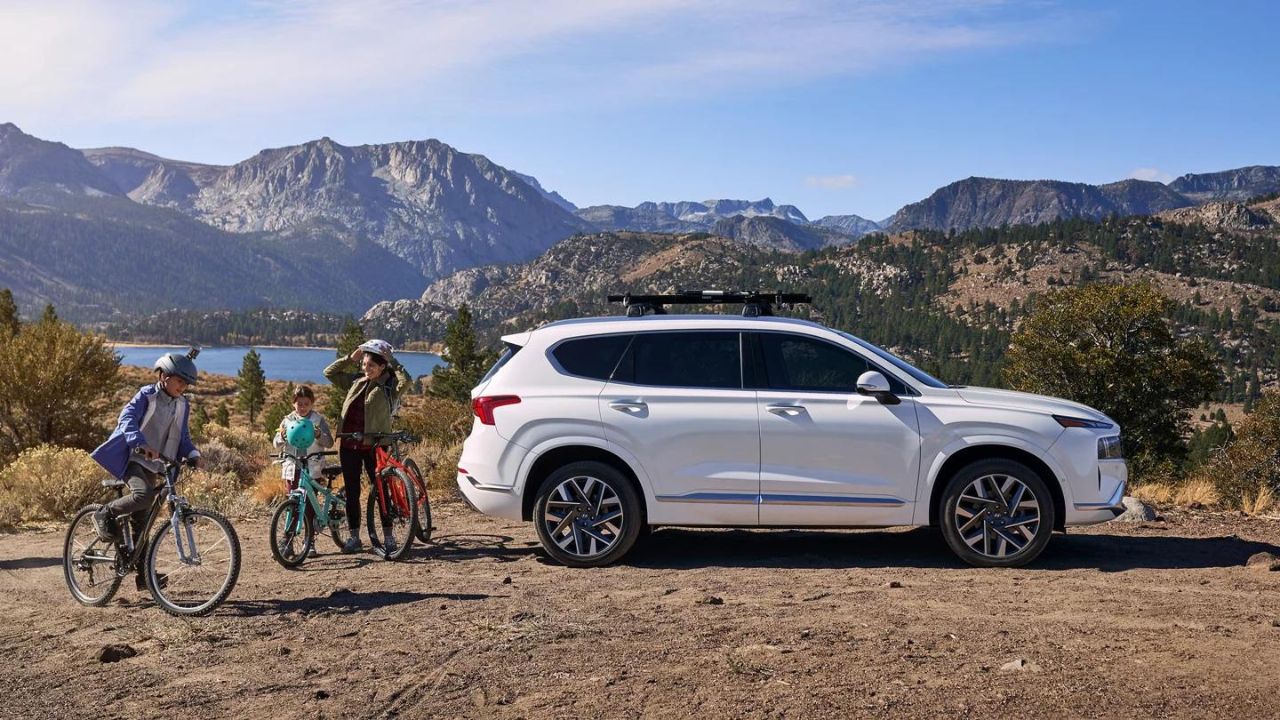 If you're in the market for a new family vehicle, the Hyundai Santa Fe may be perfect for you. The Santa Fe is a mid-size SUV that offers tremendous value, comfort, and safety. The Santa Fe has been a staple of Hyundai's annual lineup of vehicles for years. It has been a successful model because of its versatility and reliability. It is not just a family vehicle, though that usefulness is certainly a big part of the Santa Fe's identity. Here are some of the best reasons why you should consider the Santa Fe for your next family car.
2022 Hyundai Santa Fe Family Vehicle Perks
2021 Hyundai Santa Fe Size and More
As a mid-size crossover SUV, the 2022 Hyundai Santa Fe straddles the line between size and economy. With a five-passenger seating capacity, the Santa Fe is a perfect choice for most families. With 39 inches of rear headroom and nearly 42 inches of legroom, there is always plenty of space for second row passengers.
If you don't need the full seating capacity, the Santa Fe also offers plenty of storage space. 
With the rear seats folded down, the 2022 Hyundai Santa Fe provides up to 72 cubic feet of total cargo capacity. If that's not enough, the Santa Fe also comes with an underfloor storage compartment for added cargo space. So whether you're traveling with your full family, or carrying bulky cargo, the Santa Fe can fit everything with ease.
2022 Hyundai Santa Fe Tech & Interior
A spacious interior is just one aspect of the comfortable cabin in the Santa Fe. Hyundai also loaded this midsize SUV with plenty of tech to keep you and your family comfortable and entertained on the road. That starts with an 8-inch touchscreen audio display system that comes standard on every model. 
Some models allow you to upgrade to a 10.25-inch infotainment touchscreen display with built-in navigation. Wireless Android Auto and Apple CarPlay also make it easy to connect your devices any time.
The seats inside the Santa Fe are also crafted with your comfort and convenience in mind. Optional heated front seats are available for those who desire some extra luxury. 
The stain resistant cloth seats which come standard are also a must for most families. With dual temperature control and air filtration available as well, your family should never be uncomfortable in the 2022 Hyundai Santa Fe.
Hyundai Santa Fe Safety
A top priority for any family when searching for a vehicle is safety. The Hyundai Santa Fe excels in this area. 
The Santa Fe has a 5-star safety rating from the NHTSA and is a Top Safety Pick+ according to the IIHS. Some advanced safety features on the 2022 Hyundai Santa Fe include Smart Cruise Control, Rear View Monitor with parking assist, and Highway Driving Assist.
Driving Performance
On top of everything else, the Hyundai Santa Fe simply performs well on the road. It can handle any conditions with style and efficiency. The Santa Fe gets a respectable 26 combined miles per gallon, which is quite high for a mid-size SUV. 
And with all-wheel drive activated, the Hyundai Santa Fe can even handle off-road conditions. So you can take your family anywhere, in the city or the wilderness, in comfort with the Hyundai Santa Fe.
Hyundai Sante Fe For Sale in Alabama
There are plenty of reasons why the Hyundai Santa Fe should be your next family vehicle. The all-new 2022 Hyundai Santa Fe starts at just $37,537. That price tag delivers tremendous value on one of the best (and safest) family SUVs on the market. Visit the Mitchell Hyundai showroom in Enterprise, AL to see our new 2022 or 2021 Hyundai Santa Fe models.